A BRIDE AT LAST by Melissa Jagears!
Abandoned by his mail-order bride, Silas Jonesey has fought an uphill battle to recover from a pattern of poor choices. Now his prayers for reconciliation have finally come true and his estranged wife has contacted him with her whereabouts. Kate Dawson was supposed to be a mail-order bride, but upon realizing she'd been deceived about her intended groom, she's now settled into life as a schoolteacher. When the mother of a student passes away, Kate assumes she'll take on care of nine-year-old Anthony--until two men suddenly show up in town, claiming to be the boy's father. Silas can see Anthony loves Kate, so he enlists her help in reaching out to the boy and attempting to prove his paternity to the court. When a common interest in Anthony leads to an interest in each other and Silas and Kate begin to think they can overcome their rocky start, neither is prepared for the secrets and past hurts that have yet to come to light. Can Silas, Kate, and Anthony's wounded souls bind them together or will all that stands between them leave them lonely forever?








Here's what Publisher's Weekly has to say:
In [Jagears'] latest novel [A Bride at Last], . . . the characters are all well-balanced and engaging: Silas' struggle with his failed marriage, struggling faith, and dark past makes him sympathetic; Kate's commitment to Anthony gives her depth and pathos; and their romance develops realistically . . . a memorable read for fans of redemptive historical romances.
Check out her upcoming release, With This Ring?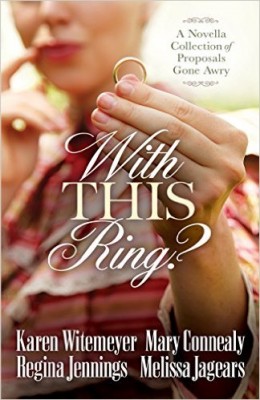 A historical novella compilation of four award winning authors - Karen Witemeyer, Mary Connealy, Regina Jennings and Melissa Jagears Four top historical romance novelists team up in this new collection to offer stories of love and romance with a twist of humor. In Karen Witemeyer's "The Husband Maneuver," Marietta Hawkins decides to grab the reins when the ranch foreman she loves seems to be leaving forever. Regina Jennings offers "Her Dearly Unintended," where friends stranded by a rising river pretend to be newlyweds when a dangerous stranger arrives. Mary Connealy's "Runaway Bride" finds a Texas ranger getting more than he expected when he rescues a young woman fleeing a dangerous arranged marriage. And Melissa Jagears' "Engaging the Competition" finds a young woman forced to assist the man she's often sparred with after an accident leaves him helpless. Each tale is a fun blend of history and romance that will delight readers.
Find it here on Amazon
About Melissa:
Melissa Jagears is a homeschooling mom who writes Christian Historical Romance after everyone is asleep. She's the author of the Unexpected Brides Series with Bethany House. The prequel ebook novella, Love by the Letter is free to try. You can learn more about her, her books, and where she hangs out online at www.melissajagears.com